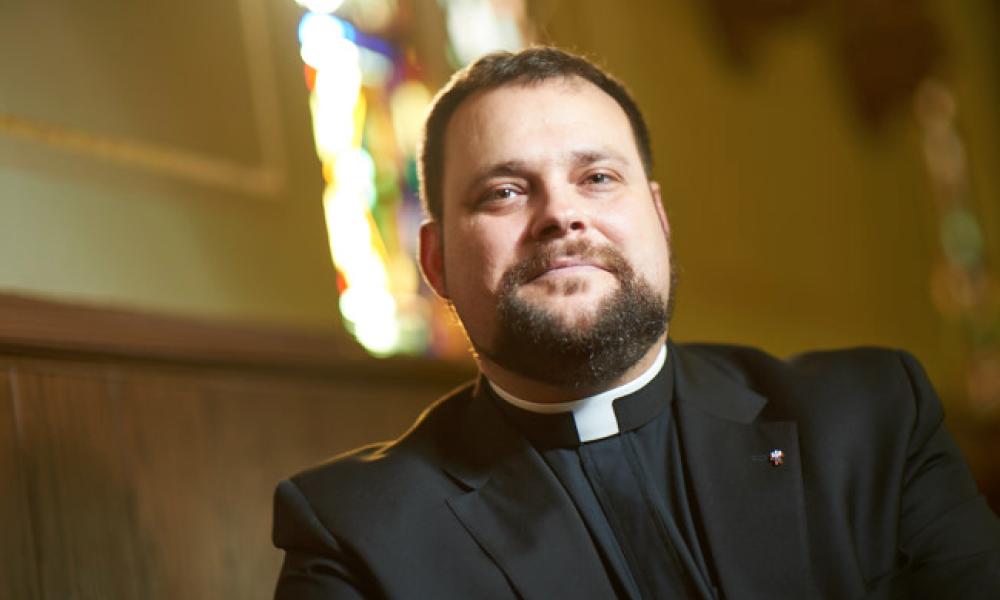 ---
From Anglican priest to Catholic priest
Father David Reamsnyder and his congregation converted to Catholicism
Father David Reamsnyder's faith journey began with a knock at the door. By answering that knock and accepting a simple invitation to a Bible study, Father Dave ended up a married priest for St. Anthony of Padua Parish in Hillsdale.
"The journey started when I was in the Army," Father Dave remembers. "I was literally feeling sorry for myself. The Army had not turned out to be all I thought it would be. I prayed one night, 'God, if you're there, give me a life and friends, basically turn my life around from where it is right now.' The next morning, one of the men from my platoon knocked on the door to wake me up, and he asked me if I was a Christian."
Father Dave said he was, and received the Bible study invitation. "I accepted the invitation, but I have to say I was a bit reluctant," he says. "I didn't really want to do that, but I also felt that God had really done something for me in that moment, which I wasn't going to turn down."
"I learned that the idea of doing the right thing wasn't enough," Father Dave said of his experience with the Bible study group. "There had to be an internal transformation."
 As his relationship with Christ grew, Father Dave struggled with the Calvinist emphasis found in much of what he was learning. Study and mediation on free will versus determination is how Father Dave began his journey towards Catholicism.
He decided to leave the Army for Spring Arbor College to begin work toward becoming a minister. "It was a fruitful time for me," Father Dave remembers. "I was deep in Scripture and learning the history of theology, and getting a good foundation in philosophy."
Upon his graduation, Father Dave was mobilized to Iraq for 14 months. Here, deep in the culture of the Middle East, away from his wife and newborn son, Father Dave was touched deeply by his worship at a Chaldean Catholic Church.
"Even though everything was being said in Arabic, I could understand what was going on," he remembers. "Here was this very reverent style of worship, but for me, more importantly, I started to see this universal Church."
After his return home, still not ready to commit to Catholicism, Father Dave and his family began to worship at an Anglican church. "It was the Eucharist every Sunday, the Liturgy with the readings, the Gloria," Father Dave explains. "It had all the elements of Catholic worship, but none of the hierarchy of the Catholic Church. It was the perfect stepping stone into the Catholic Church. It was the bridge between being a Protestant and a Catholic."
His parish sent Father Dave to the seminary. Accompanied by his family, he studied and lived in community at an Anglo-Catholic seminary, Nashotah House, in Wisconsin. The focus in seminary on Catholic tradition along with daily liturgy strengthened Father Dave's call to Catholicism. "By the time I was ready to graduate from seminary, I felt I really wanted to be in the Catholic Church –  but there was not really an open door for that," says Father Dave.
"The pastoral provision has existed for more than 20 years," he explains "but is only for mature priests in the Episcopal Church."
The stringent requirements mean very few Episcopalian priests can make the transition to Catholic priesthood.
After ordination, Father Dave and his family moved to Baltimore, Md., for his first curate assignment. During the first six months, Father Dave prayed to God to provide a way to follow his heart to the Catholic Church. Pope Benedict answered his prayers with the announcement of the personal ordinariates for Anglicans. "He put out this beautiful constitution for us to enter the Church," Father Dave says.
His congregation voted to join the Catholic Church and entered together on Jan. 22, 2012. Father Dave was ordained a Catholic priest on June 9, 2012. Although his prayer to become a Catholic became a reality, Father Dave lost his positions as a hospice chaplain and parochial vicar of his parish. With no possibility of working for either the Diocese of Baltimore or the Diocese of Washington, D.C., the Reamsnyder family returned to Father Dave's hometown of Hudson to live with his parents and regroup. His wife, Beth, found a job as a kindergarten teacher in Hudson, and Father Dave started work for an automotive component factory.
That job lasted only two weeks. "The diocese called me up and they said, 'We have a situation where we need a priest, and you're a priest and you're in a situation,'" Father Dave says. "Bishop Boyea said, 'It's obvious that God has done all this and brought you here.' It was at that moment that it felt like I was home."
With the support of Father Joe Krupp of Sacred Heart Parish in Hudson, Father Dave has been able to navigate the management of a parish 10 times the size of his parish in Baltimore. "The response of the Diocese of Lansing has just been wonderful," he says. Parishioners have been welcoming and supportive of Father Dave and his family as they adjust to busy and demanding parish life.
"I think Beth has found the community is very welcoming of her," Father Dave says of her unique position as the priest's wife. "A lot of the ladies have reached out."
Family is an important part of Father Dave's support system. Not just his wife, Beth, and their children, Charles, 9, and Cora, 18 months, but also his family and Beth's family, who are all close by.
"Definitely having a family has forced me to find ways to grow in holiness," says Father Dave. "I definitely look to St. Joseph for that."
He acknowledges the challenge to find the balance between serving his parish family and supporting his wife and children. "The demands of the parish can only be met by one person," Father Dave says. "And, likewise with my family, they only have one dad. There's a huge tension there. It has increased my reliance on God to get my day scheduled."
Looking back on their faith journey, the Reamsnyder family appreciates God's love and guidance. "Anytime we talk about being here, it's that God has put us here," says Father Dave.
"What I'm doing right now is not the intention of the personal ordinariate. I was not ordained to take over a regular diocesan parish," Father Dave says of his unique position. "The personal ordinariate has a mission to allow Anglicans to come into the Catholic Church and hold onto some of their liturgical practices. We really have a mission for the conversion of the Anglican people back into the Catholic Church."
Although Father Dave is working for God in a way both unexpected and challenging, he is happy to finally be a part of the Church that Christ created more than 2,000 years ago.
"I definitely feel blessed to be here," says Father Dave. "It is reinforced every day."