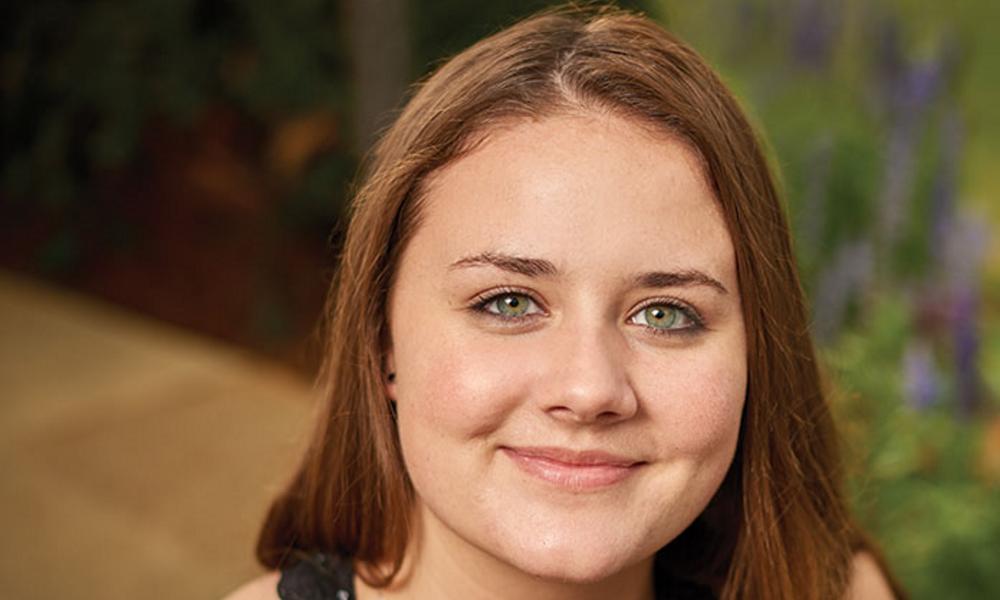 ---
Although It may not be easy to talk about Jesus, Alyssa says: 'Don't be afraid. Jump in!'
Alyssa Pfarr knows it's not easy to talk about Jesus. "Sometimes, my friends ask me questions because they know I care about my faith … I want to say to other young people, 'Get out of your comfort zone. Maybe you think you don't know God, or maybe you do, but it doesn't matter – everyone is trying to figure it out.'"
As she wraps up her high school career at Brighton High School, Alyssa's goals include reaching out to others – both when she sees that her peers are struggling and when she herself needs support in living the faith. She says, "It's not easy talking to people about Jesus, but one thing that helps me is to talk about my service work because serving others really helps me understand God. But sometimes, as a teen, you are your own challenge. You don't have as much knowledge as you'd like and there are so many people who don't believe – if you're not careful, they could sway your decisions. The temptations of the world are real. Being in youth group helps me overcome those things because the other youth group kids help me stay on track with my faith."
How did Alyssa get started with her service work and youth group?
Raised Catholic, Alyssa Pfarr's fourth-grade year stands out as a turning point in her faith life. "After my family's move from Ohio to Brighton, I suddenly realized that not everyone was Catholic. I was young, but it made me curious. I started to wonder what it meant to be Catholic," she says. That curiosity about the faith grew throughout her youth.
During her sophomore year, Alyssa attended Catholic Heart Work Camp. During this part mission trip and part retreat, she sensed that the experience was the beginning of a more mature relationship with God. "It was a lot to take in. I had never even been to adoration. We had Mass in the mornings, we served the people of Muskegon during the day and then we came back together to pray and discuss how God was working in our lives. After I left there, I wanted to get more involved," she says.
Knowing that God was calling her to more, Alyssa sought to spend time with other teens who were building their own relationships with God. She says, "That following September, youth group started again at St. Patrick Parish and Kate Baumer became our youth minister. She really made it teen-centered, she made it ours. Kate makes learning about God fun and always makes it relate to our lives. She has changed the way I look at my faith."
With the goal of integrating her faith into all aspects of her life, Alyssa spent the summer between her sophomore and junior years focused on intentional Christian living. She recalls, "I didn't do a lot, I just worked. I stopped using social media. I tried to find myself and to figure things out. I became comfortable with who I am as a person and as a Christian. By my junior year, my life was based around God and my youth group." Youth group meetings and events, along with giving up a spring break vacation to go on mission trip, attending the Diocesan Youth Leadership Camp, and going to two more Catholic Heart Work Camps, have all helped Alyssa keep God at the center of her life.
"During spring break this past year, I went on mission trip to work with Habitat for Humanity in Grand Rapids. Father Vince Richardson went with us, and he gave us the choice to go to 7 a.m. Mass. Everyone chose to go every single day. The people at the parish were so shocked and so appreciative to see young people there that, soon after, their own youth group started going to daily Mass. On that trip, we not only served the community, but we served each other, too. It was another experience of realizing how important that is and how much I want that in my life," she says.
"As I look to the future, one thing I really hope to get involved with in college is a Catholic group. I want my friendships to stem from that group because I want to go to church, I want to volunteer and I want to be involved in serving others. When I go on college visits, one thing I always ask is, 'Is there a Newman Center?'"
Keeping God at the center of your life isn't easy in today's world. But Alyssa is committed to "trying to figure it out."