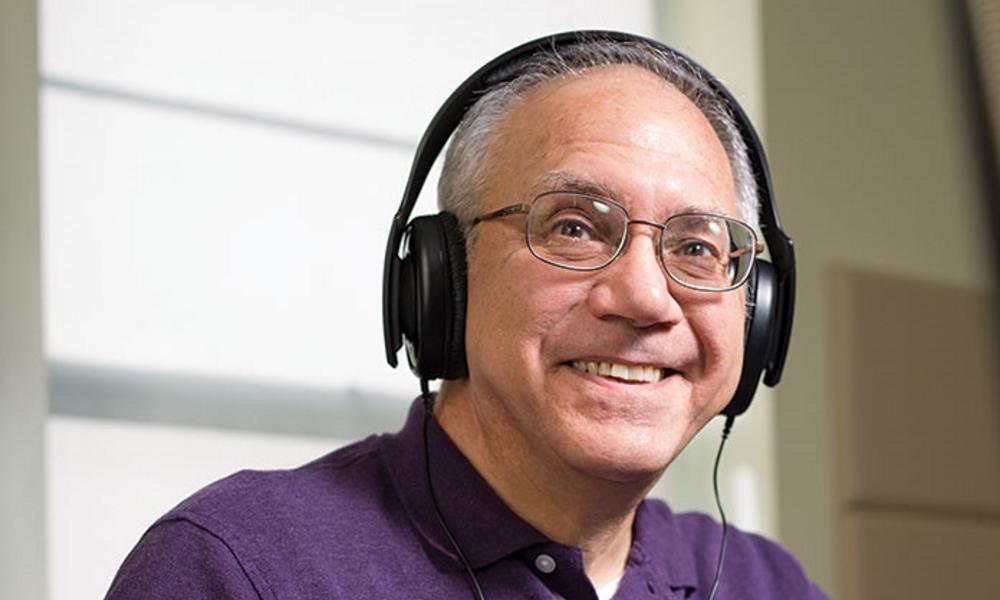 ---
On the Air for Jesus: Harry's Mission on the Radio
People create or build their own life every day as they go forward. You have to be open to using your creative force to build anything, like a painting, a house or a community." – Harry Hill
... or, if you're Harry Hill, president and general manager of Good Shepherd Catholic Radio, you might find your creative force at work running a radio station!
"I never expected to be GM of a radio station," Harry confesses. "I grew up in Detroit during the 1960s and early 1970s, graduated from Redford High School, then served a four-year stint as an electronics technician in the U.S. Navy. Afterward, I moved into systems analyst and information technology positions with a number of multinational corporations such as 3M Company and EDS/General Motors. I supported their emerging computer and communications departments around the world until my career ultimately took me to Consumers Energy in Jackson in the early 1990s.
"Jackson is my wife Peggy's hometown, so it was a good place to settle down. Peggy, our daughters, Emily and Laura, and I have lived here ever since. We built a great life in Jackson. We are members of Peggy's home parish, Queen of the Miraculous Medal Church. Our girls both attended Queens Elementary School, Jackson Catholic Middle School and Lumen Christi High School. I've been active in the Society of St Vincent de Paul and the Knights of Columbus Council 609 at Queens.
"I came to the Catholic Church as a convert. My mother was an Italian Catholic. My father was an English Baptist. I was raised in the Protestant tradition, but for most of my life I wasn't involved in organized religion. When I went to college to study philosophy, I learned about coming to know God through the exercise of reason and natural law. I enjoyed discussions with my professors and fellow students who were Catholic. I didn't know much about the faith, but my friends gave me an appreciation for Catholicism. I eventually received a degree in philosophy from Oakland University.
"When Peggy and I decided to get married, I converted so we could be married and raise our family in the Catholic Church. It wasn't until I went through the RCIA program that I realized how much those school discussions were shaped by Catholic thought and beliefs. I really appreciated the universal Catholic truths, going back to the foundation of the early Church. This traditionalism carries those universal Catholic truths through the years and into today. We've raised our girls by them and have tried to honor them in everything.
"Peggy worked as an occupational therapist, then she opened a fused glass and pottery painting studio in town. Before I knew it, 20 years had gone by with my job at Consumers Energy, and I decided to retire. I planned to take up fishing, hiking and golfing. I thought I was going to take it easy and enjoy life.
"Then I met Barb Shumard, and I told her about my background. Right off the bat, she told me about Good Shepherd Catholic Radio (GSCR) that her husband, Doug Shumard, had founded. She said that the Board of Directors was searching for a new general manager. She thought I might be able to help.
"As I learned more, it was clear that I had the technical and business background they needed. I discovered it was a manageable size, so I wouldn't have to work long hours, which sounded attractive, since I was retired. Most importantly, I knew I could actually make a difference.
"Fundamentally, people are looking for truth at every level. It seems like it's getting harder and harder for Christ's truth to surface. GSCR strives to provide that truth through talk radio programs produced by the Eternal Word Television Network in Birmingham, Ala., and Ave Maria Radio in Ann Arbor. These programs focus on daily news and events and how they impact us from a Catholic perspective. GSCR programs help explain the Church's position on the issues. You can find GSCR broadcasts on WJKN AM 1510 and W227BY FM 93.3 in the Jackson area today, and we're exploring plans to expand coverage into the Lansing area.
"I've got the radio on every day and even in the car. Now that I listen to Catholic radio, I'd rather tune in to something with a Catholic position. The lion's share of our programming is talk radio. Most local programing is informational about events locally, so listeners can know what's going on in our broadcast area. "Blue Collar Theology," for example, is produced here by a counselor who interprets current events from a Catholic perspective as they affect families. "I had never worked in broadcast radio before, so I was able to learn something new. That appealed to my creative side that I hadn't expressed since we moved to Jackson. For years, I shared an art studio in Detroit's Corktown with professors from Wayne State University and the Center for Creative Studies. I made charcoal drawings and oil paintings, but when we moved to Jackson, that all went by the wayside. I'm enjoying engaging my creative side again here at GSCR. "Most of the people here are volunteers. God puts things in your path you don't always expect. The way I look at it, so much of life is unplanned. In the course of living, things present themselves and you encounter people and situations completely unexpectedly. My life reflects that. If it seems like good things will happen, then you go with it. "I've always been open to doing new things; enjoying the discovery, the wonder, the miracle of them. When you're presented with an opportunity, you go with it. Like I said, people create or build their own life every day as they go forward. You have to be open to using your creative force to build anything, like a painting, a house, or a community ... or a radio station!"
Good Shepherd Catholic Radio
Good Shepherd Catholic Radio (GSCR) communicates Christian truth as expressed in sacred Scripture, sacred tradition and by the magisterium of the Catholic Church. It offers Catholic religious and educational programs aimed at:
upholding and strengthening the Catholic faith; 
originating local programming focused on local Catholic events; 
broadcasting Catholic news of local, national and international significance; and 
assisting the Diocese of Lansing, parish schools and Catholic organizations with public service announcements, both on the air and on our website.
GSCR does this through generous financial and volunteer support of listeners who donate online at gscr.org, or send checks to: Good Shepherd Catholic Radio, 704 N. East Avenue, Jackson, MI 49202-3423.
Find GSCR at 93.3 FM or AM 1510, and visit us on the web at gscr.org.