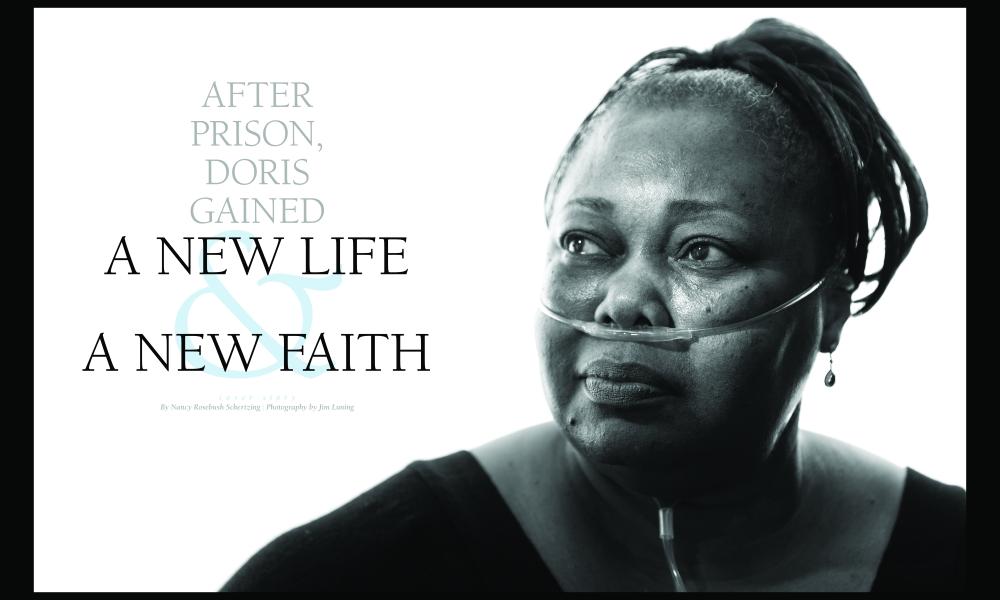 ---
After prison, Doris gained a new life and a new faith
As a young girl growing up in southeast Arkansas, Doris Speed took a shine to the shy boy next door. "I like that Willie Thomas," she announced to her sisters one day. "I'm fixin' to go over to the fence and give him a kiss." Overhearing her boast, Doris' mother set about immediately to change her daughter's plan the only way she knew how – by taking a belt to her.
"I have nine brothers and 12 sisters," Doris explains, showing very little emotion. "My mom had rules. Our house was spotless. She was the disciplinarian, whipping us with cords or switches to keep everybody in line. Sometimes I thought she was a little mean. My dad was real easygoing. He was always whistling a happy tune, whether he was working in the lard company or on the farm.
"I never made it over to kiss Willie. I got married a few years later. We moved to Michigan to be near my husband's family. In 1993, he died of leukemia, leaving me pregnant for our fifth child, Nassim. Jaquetta was 5, Kadeem 3, Hakeem 1, and our oldest son, Kenny, was grown. I went to work cleaning houses and cared for my four youngsters and Kenny's two babies. We did alright between my paychecks and the kids' Social Security payments from their father's death. I even saved enough money to take the kids to Disney World.
"After that trip, I told my children I'd take them to Disneyland if we ever got to California. I try to keep my word to my kids. I knew it wouldn't be easy, but my sister lived out there and my dad had gone to stay with her, so I figured we might make it out for a visit.
"One day, my sister called, saying that Dad was unconscious, and it didn't look like he was going to make it. I was real upset. When I told Jaquetta I had to go to California, she right away thought she was going to Disneyland. I told her I had to go without her, and she got really upset. She started yelling and telling me she hoped my father was dead by the time I got there.
"I grabbed the extension cord and started whipping her. I was so angry that she would talk like that about my father. After a minute she went to get dressed and headed off to school. I quickly packed my things, and Nassim and I headed to California so we could be with my dad and sister. We traveled with my sister, who lives here in Lansing. Her husband agreed to take care of my kids while we were in California.
"While I was there, Jaquetta's teacher called to ask if I had beaten her with an extension cord. I told her yes. Then a bit later someone from Child Protective Services (CPS) called to ask me more questions. They made an appointment for me to talk to them as soon as I got back from California.
"I came back right away, and went directly to the CPS offices to answer their questions. They told me they were taping my answers and asked if I wanted a lawyer. Since I was just disciplining my own child, I didn't think I needed legal protection. I hadn't done anything against the law.
"They told me they were placing my 12-year-old Jaquetta in CPS care and that my boys – who were 10, 8 and 7 – had to live with my sister and brother-in-law. I went home alone to an empty house. A short while later, the police arrested me for first-degree child abuse.
"Because I was on tape saying I had beaten my child, I didn't have a trial. The judge said I was probably using learned behavior, but he sentenced me to prison anyway.
"While I was held in the county jail, my father passed. My sister from Lansing was able to stay to be with him at the end. Together my sisters buried our dad without me. While they were there, my brother-in-law decided he couldn't take care of my sons and he turned them over to CPS, too.
"Our whole family was just lost." Remembering, Doris shakes her head.
"I thought prison would be like on TV. But once I found out I could wear my own clothes and no one was going to rape me, I settled into a routine. After a year, they transferred me to Camp Brighton, a minimum security prison.
"Still, I did better than my kids during my time there. They jumped from one foster home to the next. Eventually Nassim and Kadeem were sent to St. Vincent's Home. Jaquetta and Hakeem bounced around, too," she says.
"In April 2004, I was released and came back to Lansing to try to start over. One day I got a call and a man's voice said, 'Mom, this is Kadeem.' He came home shortly after. Then Nassim came to live with us. In 2008, Jaquetta posted online that she was homeless, so I posted my phone number on her page. We met at her doctor's office, where she announced she was pregnant.
"Jaquetta came home for the holidays, then stayed. That summer, her daughter, Jaliyah, was born. She has been my little angel ever since.
"As I was bringing my family back together, I was also trying to get the rest of my life back, but it's harder than you think. I couldn't get hired no matter how I tried. I had no money, no car and just a fourth-grade education. I was really feeling like they could just take me back [to prison] 'cause I was never going to get a job.
"Then one day at the parole office, I saw a woman I knew from prison. She was with a man who looked like her father, so I didn't say anything to her. When I saw her again, she told me he was with a prisoner re-entry group called Rainbow Ministry [now called Change of Heart Ministry].
She introduced me. From then on, Rainbow Ministry helped me put my life back together. They helped in little ways like lending me a car for job interviews and helping with grocery money and personal care items. They helped in big ways, too, like encouraging me not to give up hope.
"Coming back from Michigan Works one day, I saw an ad for someone to clean local businesses, so I applied and got the job. The Rainbow Ministry guys took turns driving me to my job, and they helped me get a car from St. Vincent [Catholic Charities]. They celebrated with me when I got off parole and even came to check on me after I had surgery. Eventually [Pat Heriford, director of Change of Heart Ministry] joined the guys. She has been my great friend. Without them, I really don't think I could have made it on my own.
"In the Bible, Jesus says 'Seek and you shall find. Ask and it will be given.' One day, it hit me, that through Rainbow Ministry, God had already given me what I asked for. These people are doing what the Bible says. Because of their example, I became Catholic.
"It turns out that Willie Thomas had been seeking, too. Since his wife divorced him, he had been looking for me. Forty-nine years after the missed kiss, he called to renew our friendship. Now he plans to move up here to Lansing and we're fixin' to get married." For the first time, a smile breaks like sunshine across Doris' face.