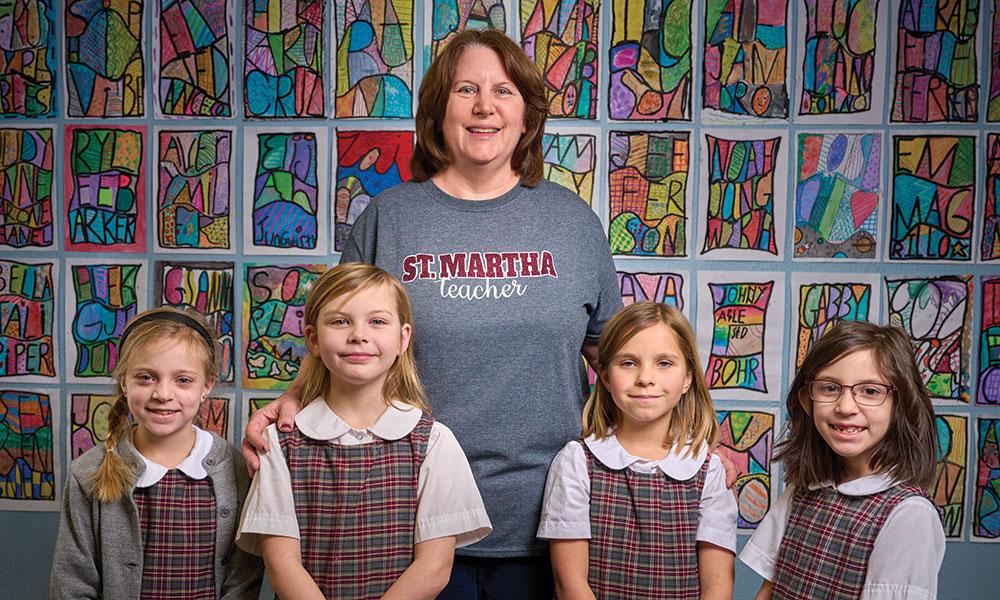 ---
After Ann's Move to a Catholic School Attending Mass With the Students 'Fills Me With Joy'
"In many ways teaching for me is coming full circle," Ann Williams explains. "My grandmother taught in a one-room schoolhouse. My dad was a professor at Lansing Community College (LCC). And my mom taught kindergarten until I came along, and she had three children at home. Following that legacy, my daughter also went into education.
"I always wanted to be a teacher. When I graduated from high school, though, there weren't many jobs in education. Over the next four years I explored different professions at LCC. Still, I had a strong sense I was called to follow in my parents' and grandmother's footsteps.
"Happily, during my exploration, veteran teachers started retiring, opening new opportunities in the field. That was all I needed to follow my heart! I enrolled in the elementary education program at Michigan State University (MSU).
"After graduating from MSU, I did my student teaching in Eaton Rapids. This led to a shared-time position teaching second grade. For the next nine years, I appreciated being home with my children in the mornings and in my classroom in the afternoons.
"After teaching 11 years in Eaton Rapids, I relocated to Haslett to teach third-graders at Murphy Elementary. Over 21 years there, I loved creating a welcoming learning environment for my students. My classroom theme was Rainbows, so I had lots of color and life under a protective arch for the little ones I taught.
"One of those little ones was Justine Erskine. She was my tiny shadow her third-grade year. We reconnected by chance a few years ago when she was at LCC studying elementary education. Over a series of conversations, Justine told me I had inspired her to go into teaching. Soon she was volunteering in my class that year and the next. It was a privilege and pleasure to work alongside her, my former student!
"I appreciated Justine's help and her energy and enthusiasm. After nearly 30 years, my profession was taking a toll. Teaching all day, I would spend evenings and weekends developing lesson plans, preparing materials and grading papers into the night. On top of that, data and assessment work and communicating with parents took over my evenings and weekends and sapped my energy. Still, I wasn't ready to leave the profession I loved.
"In 2019, Haslett Public Schools decided to renovate all classrooms throughout the district the following summer. Because they wanted more uniform classrooms, the district would provide all new furniture and educational materials. Teachers would pack up our classrooms at the end of the year and not plan to bring anything back. This would mean the end of my Rainbow Classroom.
"I filled 69 storage boxes with materials I had accumulated over my career. Thirty-two years of my life in boxes. Looking at them stacked up in my classroom I thought, 'I bet this is what teachers feel like when they're going to retire.'
"Shortly after, the Haslett School District put together a buy-out package for veteran educators. After reviewing it with my husband, and after more thought and consideration, I officially retired in July 2020.
"I have always felt that God put me on earth to teach. Exhausted and depleted as I would get from working all day, then evenings and weekends, it was a huge transition to retire. I was letting go of an entire life in service to my calling.
"I reached out to nearby Catholic schools asking if they had any part-time positions available. I figured with health care covered by my retirement package, they could hire a veteran teacher like me and still save money. They agreed, and the principal of St. Martha's in Okemos invited me to join her faculty providing math and reading intervention for kids who needed extra support.
Three days a week, I help St. Martha students in every grade catch up on what they lost during the pandemic. Our kids are very polite and well-mannered, with parents who are committed to their education. The small class sizes and one-on-one nature of this work give me a great way to stay involved in the profession I love.
"As a teacher, I have always modeled Christian values to my students. I emphasized kindness, compassion, cooperation, empathy, self-evaluation and a love for learning new things. After years of teaching in public schools, I can freely express my own faith at St. Martha. I love encouraging my young learners to grow in their faith and their prayerful relationship with Jesus. Attending Thursday morning Mass with the students fills me with joy. I get to see each class take turns doing the readings, taking up the offertory and singing in the choir. I appreciate their meaningful discussions with Father Mike [Murray] about the readings.
"As I was leaving Haslett, a principal from Eaton Rapids called me for a reference on Justine Erskine to teach second grade. Of course, I absolutely glowed about her. As I was closing the door on classroom teaching, Justine was accepting her first job in the district where my career began. I called and offered her any children's books, supplies and materials she'd like for her new classroom.
"Teaching at St. Martha's and sharing my classroom materials with Justine has helped me adjust to my unexpected decision to retire. Passing the torch to my daughter and Justine, I know their future students are in great hands. Hopefully, some of their students will answer the call to teach, as we did. Our future depends on quality education.
"It's hard to let go of 32 years of my life. But it is easier knowing that in Justine's beautiful learning space she tells her students, 'This is something I used when I was a second-grader like you.' I couldn't be prouder of her and her decision to become a teacher.
"Justine is a reflection of all the rainbows that graced my classroom over the years. If you think about it, when a rainbow meets its reflection, they form a circle together. Justine's teaching career completes that circle for me."