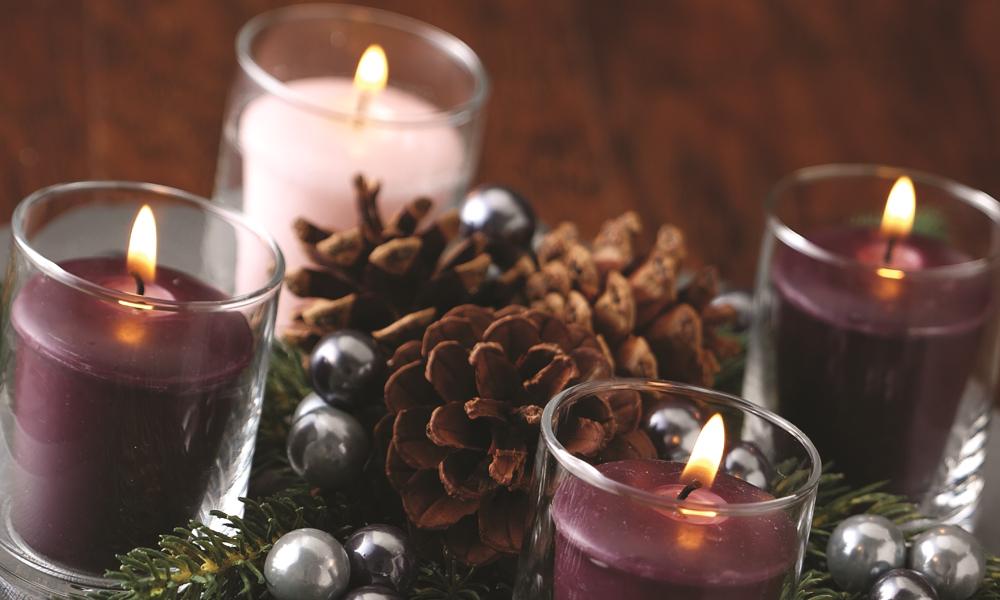 ---
An Advent'urous Design
Make this Advent centerpiece
The Advent wreath dates back to pre-Christian Germany and Scandinavia, where people used lighted candles in wreaths on cold and dark December days as a sign of hope (and in turn, thanks) for warmer, longer days. By the middle ages, Christians adopted this tradition and used these candle-lit wreaths as part of their preparation for Christ's coming into the world.
Today, there are several interpretations of the symbolism of the Advent wreath. But as it stands in our Catholic faith, the meaning and symbolism are quite beautiful. The evergreens signify continuous life, and the circle of the wreath (which has no beginning or end) symbolizes the eternity of God and everlasting life in Christ. The four candles represent the four weeks of Advent. The color purple is associated with royalty and those three candles symbolize Christ being the "Prince of Peace." Rose is the color of the one unique candle, which is lit on the third Sunday, known as Gaudete Sunday, from the Latin word meaning "rejoice." And, of course, when all the candles are lit, Christ, the light of the world, is near, illuminating our lives.
---
Advent centerpiece
For this project, you will need:
Round unfinished wood charger plate

Small bottle of metallic acrylic craft paint

Paintbrush

4 clear glass votive candleholders

Purple votive candles

1 rose votive candle (or any shade of pink)

Real or artificial evergreen trims

Any other trims for placing around the votive candles
Paint the unfinished charger plate and set aside to dry. You may need to apply a couple of coats. Arrange the four glass votive holders with votives inside. If you wish, affix bottom of glass votive holders with a dab of hot glue. This will keep them in place. Arrange the evergreen trims and any additional trims you wish.
Another idea: Don't feel like painting one? Charger plates come in many different colors and can be purchased inexpensively from any store that sells home goods.
---
This article was originally published December 2010.