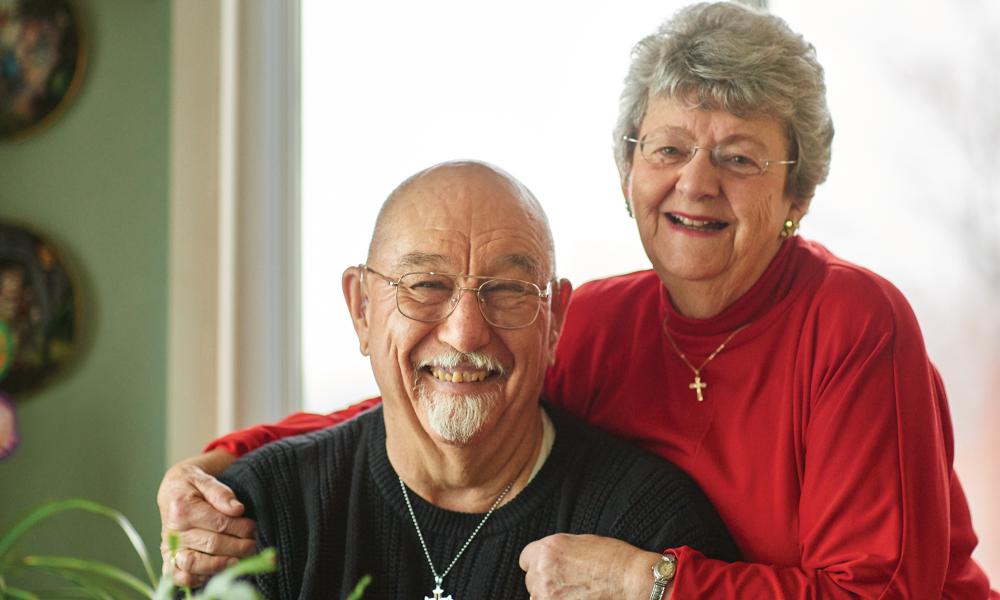 ---
52 years and counting
For Ed and Beth, marriage is 'a promise, a sacrament, a commitment'
Home from the Korean War, Ed Farrell returned to his native Upper Peninsula to attend college at Northern Michigan University. His service as an Army artillery instructor cost him his hearing, and a hearing test he took at Northern cost him his heart.
"I tested his hearing," Beth Farrell recalls, "so I knew what I was getting into. I saved that audiogram, and it's a good thing, too. It qualified him for VA benefits!"
"I remember shortly after we started dating, she looked at me and said, 'So are you going to ask me to marry you or not?'" Ed laughs. "I'm half Swedish, and Swedes are passive."
"Well, I needed to know if I was wasting my time," Beth retorts. "I had my bachelor's and master's degrees from U of M, and had started my career. I had been praying for a good husband, and he was Catholic – which was very important to me. If he wasn't interested in getting married, I needed to move on.
"My father always told us growing up, 'You do what you know, not what you feel.' You have to do things with your brain, not just from emotion. We were old enough to know what we were getting into."
"Well, I don't know about that," Ed smiles at his wife of 52 years. "But my mother always told us, 'you make your bed you have to lie in it.'"
"I'm much more talkative than he is. I know it," Beth continues. "I'm Italian on all sides, and in our family we were very ... Well, it was a loud family. I had to teach him how to argue. Early on in our marriage, I grabbed him, and said 'What's the matter with you?' He was pouting about something and I can't stand pouting! If something is bothering you, say it."
"I kind of modeled myself after my mother." Ed explains. "It's not that she never argued. She did. But she argued in a very controlled way."
"You've got to keep communicating. You've got to KEEP communicating!" Beth says emphatically. "Marriage is a promise. It's a sacrament, and a commitment. We wouldn't even think about getting a divorce, even though we had three boys in about three years and we both worked full time. Not even in the tough times – going through cancer and Ed's depression after his mother died."
Ed explains, "She went into the hospital for a routine procedure and died of a perforated bowel. I have such respect for her and all she's gone through in her life – raising seven kids when my father was mostly absent. I never got to tell her before she died."
"I thank God I was never depressed," Beth continues. "I figured if you believe in God, you always have to have hope, but there were times Ed lost his hope. It was hard for me to understand, but I learned patience from it. Sometimes I just told him, 'Get down on your knees with me and we'll pray.'
"Both of us have been very active in the Church our whole lives. Growing up, we always attended Mass and helped in our parish. Ed is a Fourth Degree in the Knights of Columbus with Assembly 2031, and is active in the local chapter, 7418 here at St. John [Fenton]." She gestures to her husband's right hand, "That's his grandfather's Fourth Degree K of C ring. I taught CCD and religious formation while our sons and grandkids were in elementary school. Now I'm in our parish's Befriender Program.
"We attended our first Marriage Encounter about 30 years ago at St. Michael's in Flint. And we just did another one here at St. John the Evangelist – our home parish in Fenton. Here at St. John's, we also go to a wonderful program once a month, called Covenant of Love. We have a light supper followed by a video or program. Then we have a little forum at our tables about some topic of discussion."
"The program was started by younger couples in the parish, so we get to learn and offer advice," Ed says. "I hope they understand we're not that different from most couples. Fortunately, we have personalities and backgrounds that let us solve our problems to our mutual satisfaction. The Lord has been very good to us.
"I learned a lot from my wife. I don't know if she's learned anything from me, because she knows everything apparently," Ed teases.
"I don't know everything, Ed." Beth responds. "I learned patience! Marriage can be very hard. You don't always feel love, but you know you love the person. It goes back to what my father used to tell us, 'Do what you know, not what you feel.' It's worked for 52 years!"
Marriage Encounter
A Marriage Encounter weekend is for married couples who value their relationship and desire a richer, fuller life together. It provides essential communication tools for the newly married, as well as for those who have been married for decades. The next Marriage Encounter weekend in the Diocese of Lansing will be held April 15-17 at the St. Francis Retreat Center in DeWitt. For more information, visit the retreat center website at www.stfrancis.ws.