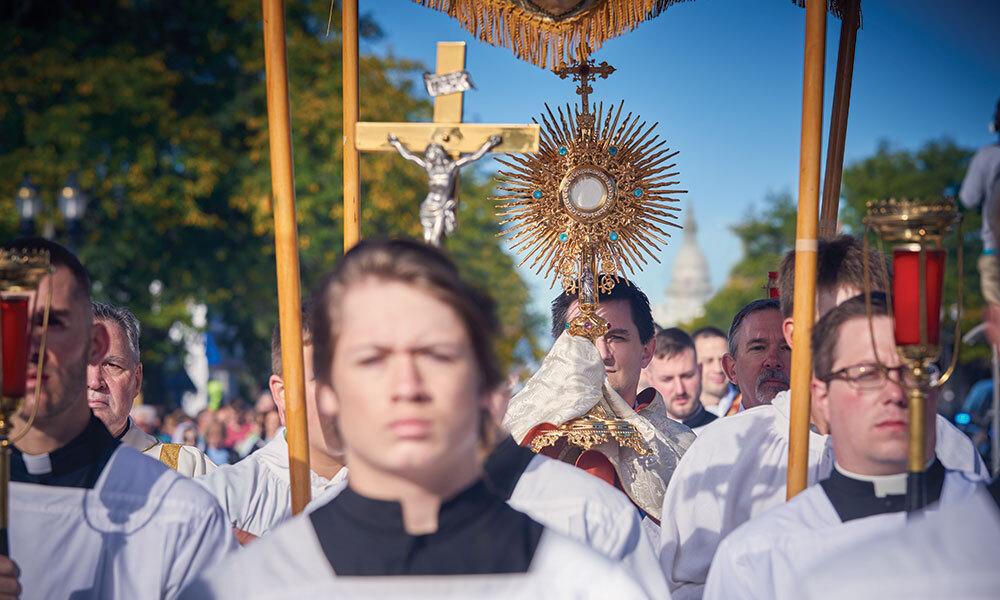 ---
Welcome Home!
My brothers and sisters in Christ,
WELCOME! AND WELCOME BACK! I am thrilled to have you gathering together again, to have our parish communities celebrating the great sacrifice of the Mass and joining in communion to receive our Savior, Jesus Christ, in the Blessed Sacrament.
These past few months have given rise to all sorts of difficulties and challenges. In the midst of so much uncertainty and change, we find solace in our faith. One thing we can be certain of – the love of our Lord Jesus Christ and our mission to carry his Gospel forth in our words and in our actions has not, and will never change. "Happy the one who trusts in the Lord!"
My friends, our Catholic Church is hard at work. For that, I thank you!
Because of you – even amid this pandemic – our Church has been able to sustain and expand its work. Your prayers and financial support have enabled us to feed the poor, visit the lonely, educate our children, anoint the dying, and bury the dead. We cannot do it without you.
Let me share some good news – this fall will see the largest group of new seminarians in our diocese for more than a decade. Our prayers, your prayers, for new priestly vocations are bearing fruit. But it comes at this very difficult time financially.
Our seminarians – like many critical ministries and services – are largely funded through the Diocesan Services Appeal, or DSA.
I am very grateful for the offertory support you provide for your parish and for your support of the wider Church. If you have already made a contribution to DSA, thank you!
For those who have not yet made a DSA gift, I am asking you to consider making a commitment today in support of this year's appeal. In doing so, you will be helping people and fueling ministries which will be critically important to our parishes and schools in the coming year. We really need your help.
This year's DSA campaign began just as the pandemic hit. Many regular givers will not be able to support DSA this year; can you help make up for others who cannot give now? Please prayerfully consider this as a special request.
Together – through our collective support and with perseverance in prayer – our beloved Catholic Church will emerge from this pandemic fortified and strengthened in pursuit of her divine mission: to bring the love of Jesus Christ to all whom we encounter. May God bless you and your loved ones. Welcome home!