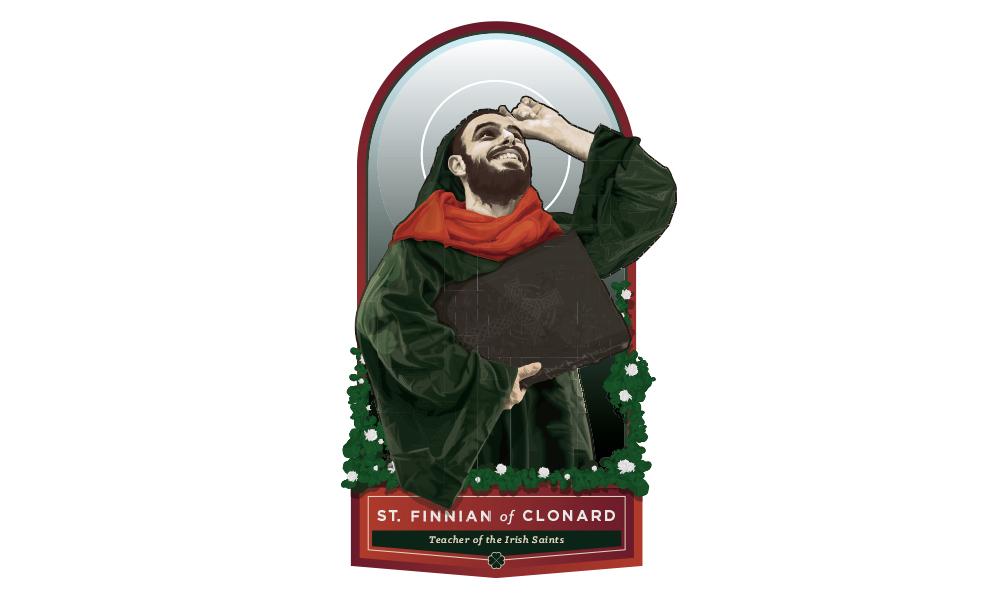 Art By Matt Watters
---
St. Finnian
Feast Day: December 12

Considered one of the fathers of Irish monasticism, St. Finnian founded Clonard Abbey in Ireland in 520. His vast knowledge of Scripture and skills as a teacher, coupled with his unwavering dedication to live simply, inspired the vocations of missionaries who established monasteries in Europe. These institutions went on to become some of the most influential centers of Christian thought in the Middle Ages.
Finnian was born in 470 in County Carlow and studied with St. Fortchern of Trim, a disciple of St. Patrick, before traveling to Wales and France to study. Participating in the austere lifestyle of the monks at Tours strongly influenced his vision for religious life. Finnian went back to Wales for several years to study Scripture before returning to Ireland. While there, he copied the Vulgate Bible written by St. Jerome and several other classics.
Upon his return to Ireland, he founded two monasteries there before teaching at St. Brigid's monastery in Kildare. According to tradition, an angel led him to an uninhabited area at Clonard where he built a small dwelling of clay and wattle to study, pray and live simply.
Word of Finnian's knowledge and holiness attracted laypeople, clerics, abbots and even bishops. He established Clonard Abbey in 520, modeled on the traditions of early Christian hermits and focused on the study of Scripture. It is said that as many as 3,000 monks studied there at one time, and over the centuries thousands of monks and theologians were drawn to St. Finnian's monastery to study the works of the Church Fathers and the Scriptures.
Finnian's work also influenced the practice of personal penance. The Penitential of Finnian focuses on developing virtue to overcome sinful behavior, and is considered one of the oldest surviving texts of its kind. Finnian died from the plague in 549.