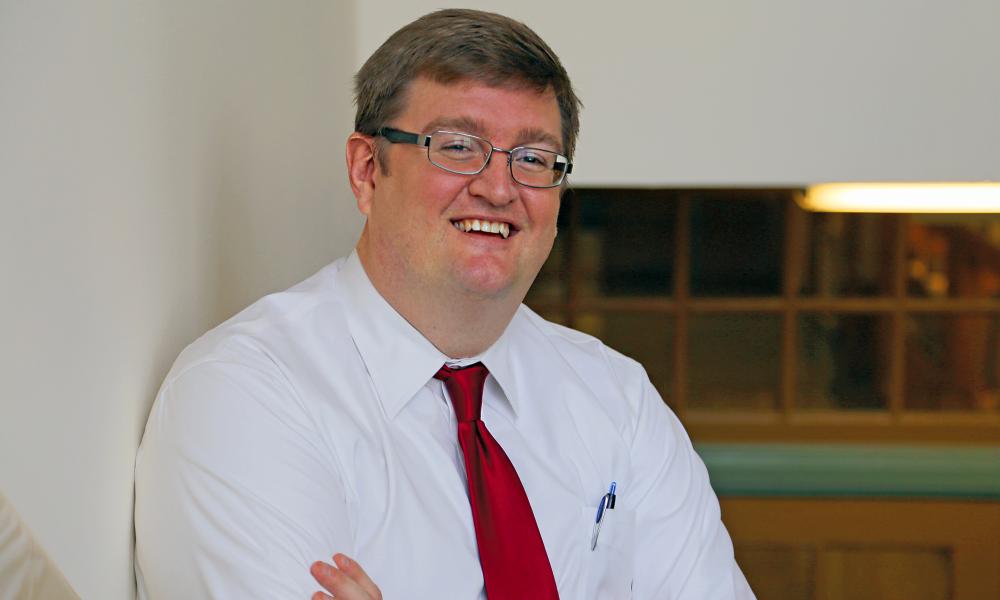 ---
Sean Costello: Educating 'The whole child' in the faith
The cost of a Catholic education can be a a huge barrier; for some, it's an insurmountable one.
But, through the diocesan-wide Witness to Hope campaign, barriers are being lowered, and the dream of a Catholic education is becoming more attainable by the day.
With the goal of $12.5 million for a Catholic school financial aid endowment, Witness to Hope will radically change support for Catholic schools within the Diocese of Lansing.
Sean Costello, superintendent of schools for the diocese, says that parish schools now provide as many scholarships as possible, but it's not nearly enough to meet the entire need of the families.
"This amount from the capital campaign is going to help us march closer to meeting all the financial need in providing Catholic education to children," Sean says. In addition to helping new families, the campaign will assist those families with children already in Catholic schools who are facing hardships.
So, what separates a Catholic education from a public education? Why should parents choose to send their kids to a Catholic school?
There are four things that make our diocesan schools fundamentally Catholic: encounter opportunities, integrating the faith, the witness of our teachers and staff, and how everyone responds to our students.
Catholic school students are given the chance to have an encounter with the Lord every day by attending Mass and retreats, and just by being given the chance to pray. These opportunities aren't available in public schools.
Sean says that he believes more families would choose a Catholic school if cost wasn't a factor because Catholic institutions have the opportunity to "educate the whole child."
"Every discipline, every contact area has faith integrated into it," he says. When the history of the United States is taught, for example, kids don't just learn about George Washington – they see how the Holy Spirit has interceded throughout that period of history, he explains.
Faith is more than attending church on Sundays. To be a faithful Catholic involves living in the faith, The capital campaign will remove some financial barriers for parents, thus empowering them to provide a Catholic education for their children. But reaching these financial goals is a marathon, not a sprint, Sean says. The intent of the campaign "is to get to a point in which no child gets turned away because of financial need," he says.
Besides providing financial aid, the campaign, he explains, will give teachers who are catechists the opportunity to grow in their faith through new programs and resources.
"This is going to have a huge impact on our Catholic culture," Sean says.
Most of the teachers who enter the diocesan schools have been trained to be public school teachers, Sean says; however, the difference is that diocesan teachers are not only required to know about the Lord, but to know him personally.
"Catholic school students are no better than public school students," he stresses. The difference between them, however, is how we respond to them, whether it's in the classroom or on the sports field. Discipline, for example, is seen as "an opportunity to grow in virtue, an opportunity to move to a different path," he says.
With the diocesan-wide campaign, Sean says the diocese is giving each and every parishioner the chance to participate in the common good.
"I can guarantee the sacrifice they make to contribute to this is helping everybody," he says.