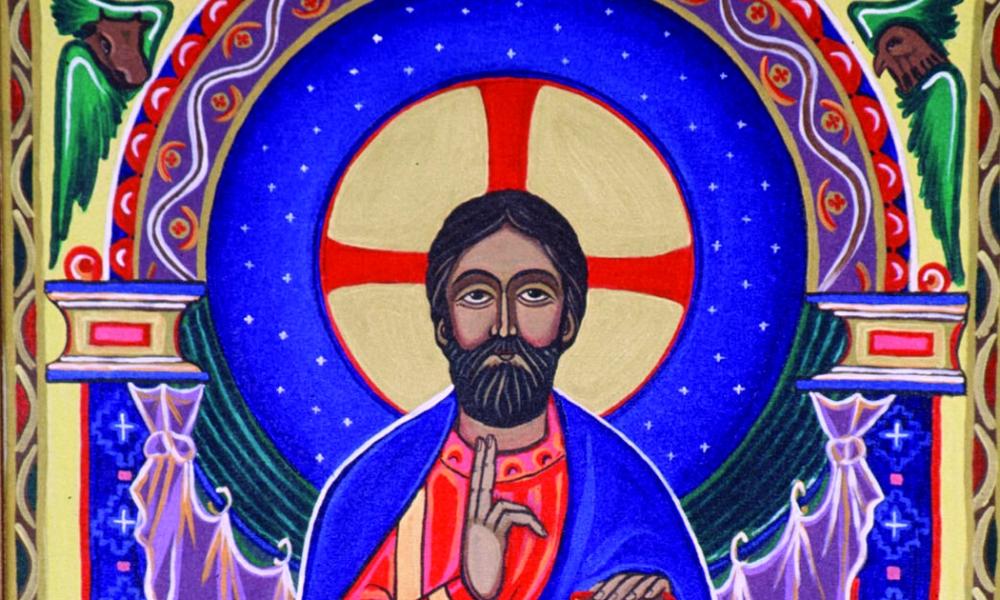 ---
New Year in November? Making Christ the King of your life
On Nov. 22, we bring the church year to a close with the celebration of the Feast of Christ the King. The following Sunday is the first Sunday of the new year – the first Sunday of Advent.
So, as we begin this month of November, it is important to prepare our hearts for this great feast. How do we do this?
Let us take a look first at the readings for Nov. 22 and see what God's word is telling us and asking of us.
The first reading is taken from Daniel 7:13-14. Here we see a description of the action going on constantly before the throne of God. It would be good to take some time to read Revelation 4 and 5 also. This is not some fairy-tale description. Our human words cannot even begin to describe what heaven will be like – but the inspired writers of Scripture give us a true foundation on which to stand and pray. After you have read these two Scripture passages, take some time this week and "enter into the throne room of God" before you pray.
One of the sisters in my community said to us one day, "Every time we enter into prayer, wherever we are, take a few moments to consider that worship is going on before God by myriads upon myriads of angels and saints, night and day, without ceasing." Use the responsorial psalm, verses from Psalm 93, to help you to worship Christ as king.
The second reading continues the same theme: praising our God who is, who was and who is to come! After we have spent some time worshiping the Lord, it would be very good to reflect on whether this God whom you worship as king is, in reality, the king, the lord of your life. Turn in your Scripture to Paul's letter to the Philippians 3:7-12:
"But whatever gain I had, I counted as loss for the sake of Christ. Indeed I count everything as loss because of the surpassing worth of knowing Christ Jesus, my Lord. For his sake I have suffered the loss of all things, and count them as refuse, in order that I may gain Christ and be found in him, not having a righteousness of my own, based on law, but that which is through faith in Christ, the righteousness from God that depends on faith; that I may know him and the power of his resurrection, and may share his sufferings, becoming like him in his death, that, if possible, I may attain the resurrection from the dead. Not that I have already obtained this or am already perfect; but I press on to make it my own because Jesus Christ has made me his own."
Paul had reached a point in his life when his reputation, studies and outstanding intellectual gifts had clearly taken second place to the all-surpassing worth of knowing Christ Jesus his Lord. Paul had become convinced, by grace, that no human award or achievement could come anywhere near the glory, the joy, of being in an intimate relationship with his savior.
That same grace is available to you! Think about your earthly success or possessions, or plans and dreams. None of them even begin to promise – let alone deliver! – the joy and peace and confidence that a personal relationship with God will give you. Paul knows this as he penned his letter to the Philippians. He who was an enemy of the cross of Christ is now, by grace, in a place where nothing is of value to him except to love and serve his Lord. What about you? Ask yourself:
---
• What place does Christ hold in my daily life?
• Where do his word and teachings fit into my daily priorities?
• What place does his will play in my relationships and recreation and career?
• Is he king or not? Is he Lord of my life in truth or in name only?
---
These are serious questions and they deserve serious consideration. You don't want to come to Mass on Nov. 22, sit in church and sing hymns to Christ the King while your heart is far away. You don't want to mumble prayers to Christ as king if you are only "babbling as the pagans do..." (cf Luke 11:42f and Luke 18:9ff). God would, in that case, rightly say that your prayers do not have value and that you are guilty of hypocrisy.
I believe in your heart that you don't want that kind of verdict leveled on your life and your prayer. But, we do need to stop and seriously ask ourselves:
---
• Do I really call Christ my king?
• Do I seek to obey him?
• Do I sincerely try to live by the standards of his kingdom and when I fail, do I sincerely repent? God is not looking for perfection. We will fail, sometimes again and again.
• Is my heart in the right place? Do I really make his priorities, mine?
---
One very important point: Don't try to conform your life to his under your own strength. That is a recipe for failure. You are a baptized son or daughter of God. Come to the Lord with confidence and tell him honestly the condition of your soul. Tell him that by his grace you want to make the words of Paul your own. Just say to him: "Lord, I am weak and sinful. But I do love you and I want to learn to love you more. Help me by your Holy Spirit to activate the graces you gave me in baptism and confirmation. Give me grace to put your will first in my daily life; give me grace to put my energy into loving you above all and before all."
When you daily begin to pray this way, God will draw near as he sees the sincerity of your heart. He will lead you into all truth – which is himself! "I am the way, the truth and the life" (John 14:6). Listen to his voice. He cries out to you through the Scriptures. There is only one voice that will speak truth, enable you to begin to enter your inheritance even now and lead you to eternal life.
May he become your king, in spirit and in truth!