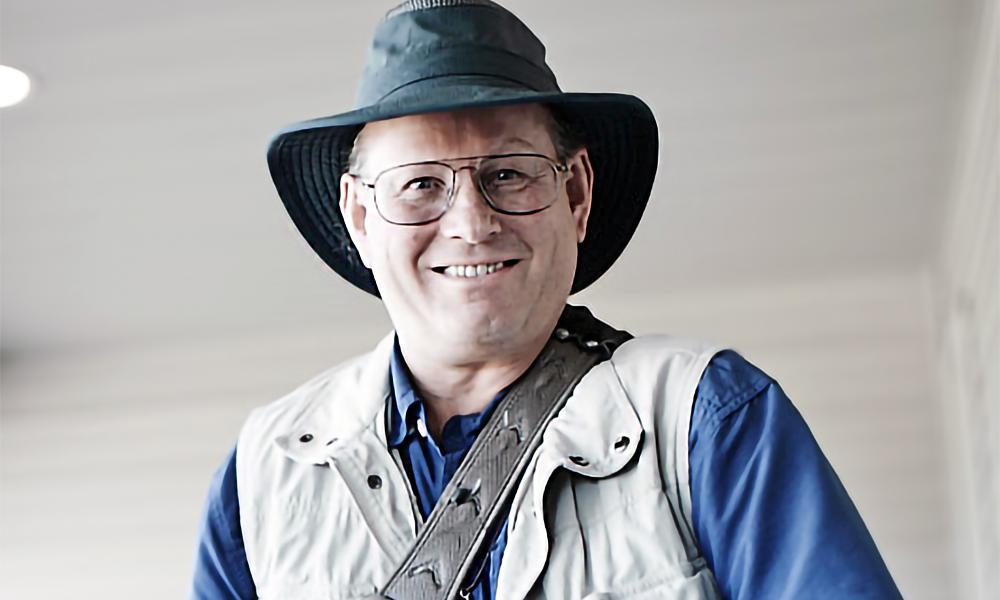 ---
For Stephen Ray, evangelizing is an 'adventure'
Clothed in a safari hat and vest, Stephen Ray is no stranger to wrestling snakes and enduring camel bites while filming the history of salvation from a Catholic perspective. 
And when Stephen – also known as "Jerusalem Jones: The Catholic Adventurer" – isn't filming a 10-part documentary in biblical lands, he and his wife, Janet, are leading pilgrimages to the Holy Land. 
"I wear this hat everywhere so everyone knows me. If I go somewhere and I don't dress like this, people say go home and dress like Steve Ray and come back," he said. 
Stephen, now 59, was born and raised Baptist and was taught that "Catholics need saving from eternal damnation," he says. At the age of 17 – after a profound spiritual experience – he decided to dedicate his life to being an evangelist.
"My mom had Billy Graham on the TV, and I was watching it and tears welled up in my eyes. I quickly got out of the house. I didn't want [my parents] to see that affected me," Stephen says. "I walked out on the country road and I looked up into the heavens and said, 'Jesus, I'm only 17 years old, but tonight I'm going to give my life to you.'"
Stephen returned to high school on a mission to convert everyone, including Catholics and other "cult" religions. On the first day of school, he met Janet, who had "just found Jesus, too."
"Well, she was only 15, and she said that God spoke to her that day for the first time and said, 'That's the man you're going to marry,'" Stephen says. 
Janet and Stephen were married in 1976, and they decided to have more than 2.3 kids to prove to the world they didn't want to be "acceptable."
"We wanted to be countercultural, even back as evangelicals," Stephen says, adding they have four children and 12 grandchildren. 
Stephen and Janet, who was raised in the Presbyterian faith, had never set foot in a Catholic Church, so when their friend Al Kresta announced he was converting to Catholicism, they devoted countless hours to prove to Al that the Catholic Church was wrong.
"I said to him, 'Al, that's the stupidest thing I ever heard. You're way too smart to be a Catholic."
One hundred books into studying the Catholic Church – including books on Mary, apostolic succession and the papacy – Stephen says he had it figured out.
"And at 2 p.m., I remember sitting down on the carpet, closing my books and I just started to cry.
"Janet said, 'Steve, what's wrong?' And I said, 'Nothing's wrong. I just realized I'm a Catholic.'"
But when Al asked Stephen and Janet to attend Mass with him, Stephen said it never dawned on him that if he was going to become Catholic – because he had read his way into the faith – he would have to attend Mass.
"In our mind prior, the Catholic Mass was almost like a pagan ritual. We went there and sat in the front. We didn't even look around; we just looked straight ahead. I remember thinking, 'Oh, dear God, please don't strike us down.'"
In 1994, Stephen, Janet and their four children entered the Catholic Church on Pentecost Sunday at Christ the King Parish in Ann Arbor.
"Both our families wouldn't talk to us for a year, and we lost all of our friends in a week," Stephen says, adding that Janet broke a 400-year family tradition of being Protestant.
"We had to start all over again. Our parents came back around and were proud of us and accepted what we were doing, (but) it never healed over completely."
Stephen was "on fire" and wanted to learn everything about the Church. After attending a pilgrimage to the Holy Land with his family, Stephen decided to take everyone to the Holy Land. And whether it was a revelation, angel or vision, Stephen says he was awakened at 2 a.m. in the year 2000 with the idea to make a 10-part video series on the history of salvation from a Catholic perspective. The documentary, he says, had to be a travelogue where viewers could see biblical lands, and it had to go beyond the Book of Acts.
"Jerusalem Jones" presents the Bible as an adventure. Whether he's falling off horses, holding snakes or being bit by a camel, "Jerusalem Jones" teaches that the Bible is not a fairy tale; it is truth.
Continuing his mission to evangelize, Stephen realized that if he could take people to the biblical lands in the movies, why not in person? This is why Stephen and Janet host pilgrimages to the Holy Land and various biblical places.
"I want kids to know there is a guy out there who has fun being Catholic. If you're a Catholic and not having fun, you're doing something wrong," Stephen says.
---
For information on the diocesan pilgrimage to Philadelphia in September for the papal visit, call Chris Shewchuck, at 810.333.2945, or visit ctscentral.net.
Interested in becoming Catholic? Contact Brian Pizzalato, director of catechesis for the Diocese of Lansing, at 517.342.2479, or visit: www.dioceseoflansing.org/rcia_adult