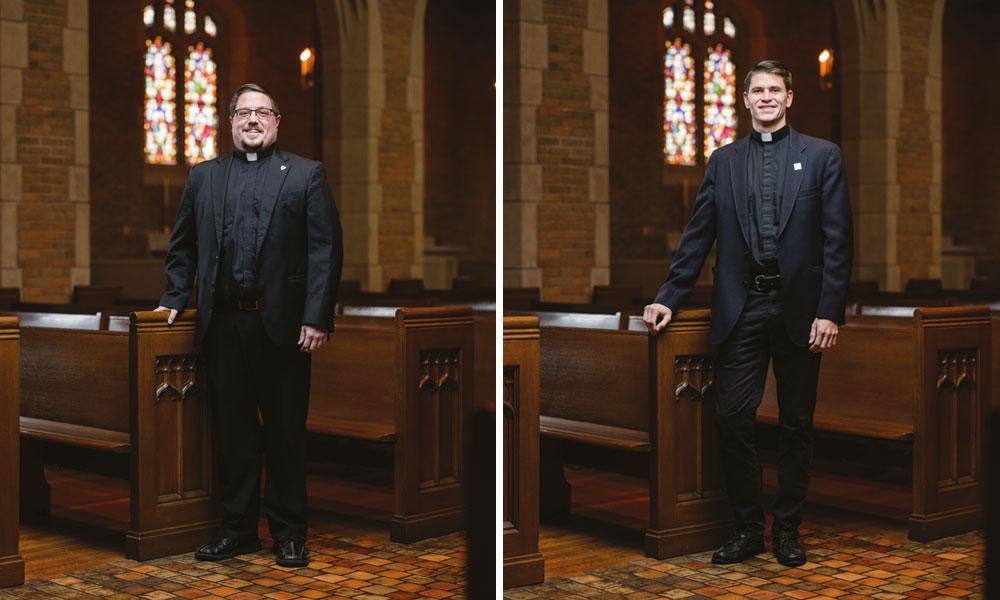 Photography courtesy of Sacred Heart Major Seminary
---
Diocese of Lansing Prepares to Welcome Two New Priests
This month, two deacons will be ordained to the priesthood. Their unique perspectives, experiences and relationships with the Lord will help them serve in ways that will enrich the faith of future generations.
Deacon Shea Kettner
Home parish: Ss Charles & Helena, Clio
During his time at Sacred Heart Major Seminary, Kettner says he loves that he has experienced "nothing extraordinary or spectacular."
"Honestly, it has been the slow and gradual growth of friendships over coffee or tea," he says. "I have found true brothers in the Lord here at Sacred Heart. I don't take that for granted because I know true and good Catholic friendships are hard to come by. On a lighter note, running the Martian Marathon (held in Dearborn) with 7 other brother seminarians was pretty awesome. It was a cold day in April (2022), but we had a good time."
Kettner says he has enjoyed serving as a transitional deacon, particularly when he was able to preach for the first time at his home parish on Trinity Sunday in 2022.
"I know God has a sense of humor having me preach on the Trinity for my very first homily," he says. "Honestly, I felt so much love from God and family. It was incredible. I had this clear sense that I was doing what I was created to do, and being who I was created to be."
Right now, Kettner is praying fervently in preparation for his ordination.
"I remember the moment of my life in prayer when I felt the Lord calling me to be a priest. It brought so much peace and joy," he says. "There was an incredible desire to follow him and be a priest. Over the years, I have found the absolute necessity for prayer. Following Jesus is not easy, but it is a whole lot easier when we are praying. In my prayer, I ask Jesus for the grace to be not afraid. Feelings of unworthiness can arise quite frequently, but prayer helps me to face these fears. In prayer, I can hear Jesus on a daily basis say to me, 'Follow me. Do not be afraid.'"
Kettner seeks humility in his role as priest.
"I desire to be a priest who knows who God is, who knows who others are, and to know who I am. I want to know how much I depend on God, that is totally and completely. And following Jesus into the priesthood is only made possible with true humility," he says. 
Deacon Corey Bilodeau
Home parish: Immaculate Heart of Mary, Lansing
Dcn. Bilodeau, who currently serves as transitional deacon within the Diocese of Lansing, says he hopes that in his ministry, when people look at him, "they see Jesus." 
His most profound experience to date has been his work in Calcutta, serving the poor.
"I truly saw God alive and at work. I began to see Christ in everyone, but especially those whom I got to serve," he says. "I saw true pain and suffering on the faces of men who were going to die. I came to the realization that I could not heal them; I couldn't even communicate with them very well. All I could do was simple acts of kindness. I helped feed men, move men to their beds, help others to the bathroom, and hold the head of those who were on the verge of death. I had the unforgettable opportunity to be the hands and feet of Christ."
Bilodeau says he is preparing for ordination by spending time in prayer. "I have been asking God to give me any more graces that he wished to give me in these last few months of seminary. I have also asked him to be with me more and more so that I am not afraid of the unknown that lies before me."
His goals for the priesthood? Humility.
"I want to be the priest God wants me to be, not the priest I want to be," he says. "I hope to get out of the way to let Jesus shine through me."
Bilodeau says he is eager to begin his priestly work.
"I can't wait to bring people in direct contact with Jesus himself in the Eucharist and with his unending mercy in the confessional," he says. "Both sacraments can show people that there is hope, that God is present in their lives."