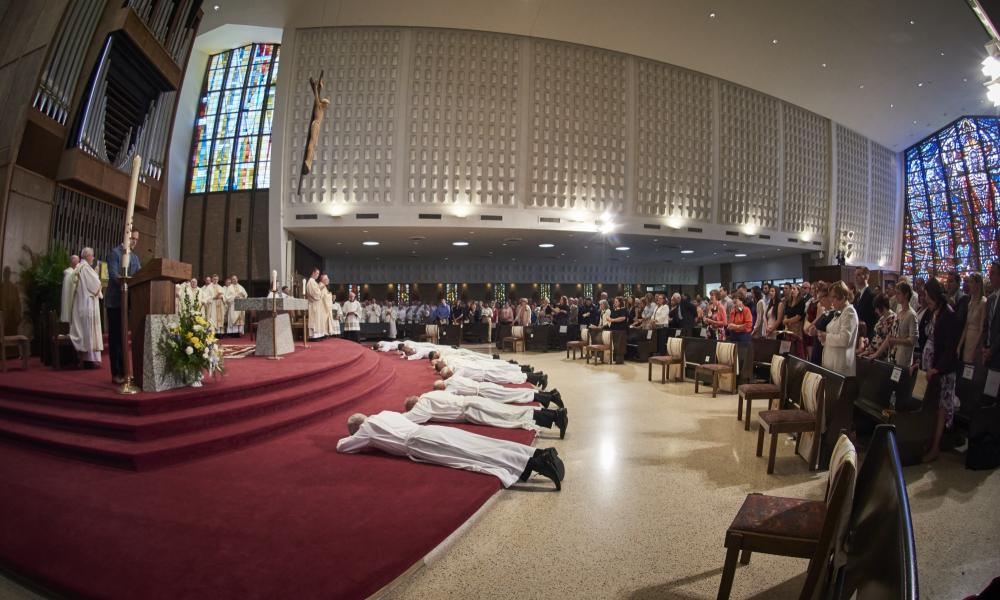 ---
Deacon Ordination 2017
The Diocese of Lansing was blessed with nine new permanent deacons and one transitional deacon on May 13. Bishop Earl Boyea ordained the new deacons at St. Thomas Aquinas Parish in East Lansing. Meet the new deacons on these pages. 
Deacon Thomas Charles Arehart
Deacon Tom and his wife, Mary (Cathy), have been blessed with two children and four grandchildren. Deacon Tom continues to operate his consulting services firm, Total Capital Asset Management. Deacon Tom and Cathy are parishioners of St. Catherine Laboure Church in Concord, where he is assigned to actively participate in liturgical services and parish ministry.
Deacon Larry Louis Blondin
Deacon Larry and his wife, Linda, are blessed with four children and 14 grandchildren. They are members of Holy Family Parish in Grand Blanc. Deacon Larry is a retired carpenter/home builder of 30 years who now happily serves as evangelization and discipleship coordinator at Holy Family. He will assist with parish ministry after his ordination.
Deacon John Thomas Finn
Deacon John and his wife, Ruthanne, both previously widowed, have four adult children and seven grandchildren. Deacon John is the owner of Logistics Control, a freight management consulting firm. Deacon John and Ruthanne are members of St. Martha Parish, Okemos, where he serves as a lector, extraordinary minister of holy Communion and jail minister.
Deacon Charles Michael Gilbert (C. Michael Gilbert)
Deacon Michael and his wife, Karen have two adult children and three grandchildren. They have been members of St. Patrick Parish in Brighton for 11 years. Deacon Mike is self-employed as an LPC/owner of New Hope Counseling. He will be involved with Communion ministry to the homebound and Brighton Recovery Center, and provide volunteer counseling services for men and couples at the Pregnancy Helpline in Brighton.
Deacon Patrick Joseph Gorczyca
Deacon Patrick and his wife, Maria have three children and five grandchildren. Deacon Pat has practiced veterinary medicine in Jackson for 45 years. He and Maria have been members of Queen of the Miraculous Medal Parish for 25 years. Deacon Patrick has been involved in many ministries in the parish over that time. He now assists Deacon Jack with baptism class, is involved with RCIA, participates in prison ministry and does Communion service. Deacon Eugene James Leger Deacon Gene and his wife, Suzanne are blessed with five children on earth, two in heaven, two sons-in-law and two grandsons. Deacon Gene is the sales manager for Ave Maria Radio in Ann Arbor, while Sue is a dental hygienist. Both are graduates of the University of Michigan. Deacon Gene and Sue were married at St. Thomas the Apostle, were founding members of Christ the King and are current members of St. Francis of Assisi Parish.
Deacon Daniel Medich Jr.
Deacon Daniel and his wife, Kathy, have two children, and are parishioners at St. John the Evangelist Parish in Fenton. As the director of formation at the parish, Deacon Dan will oversee all formation development, including children's religious education, youth ministry, RCIA, adult formation and evangelization efforts. He loves spending time with his family and friends as they help in various ministries and activities together.
Deacon Bryan Anthony Root
]Deacon Bryan and his wife, Becky, reside in Montrose, where they attend Good Shepherd Church, the most northern parish in the Diocese of Lansing. They have four children and two grandchildren. Deacon Bryan has been employed by Meijer for 33 years, and has taught religious education for just as long. At Good Shepherd Parish, he will train liturgy teams, help with RCIA, baptism and marriage preparation and visit the homebound.
Deacon Wayne Rudolph Slomiany
Deacon Wayne and his wife, Carol, have five children and three grandchildren. They are members of Christ the King Parish in Ann Arbor. They are Knight and Dame Commanders in the Equestrian Order of the Holy Sepulchre of Jerusalem. Deacon Wayne has worked at Compuware Corporation for more than 30 years. He is the education chair, and is active in liturgical service and the parish's welcoming functions.