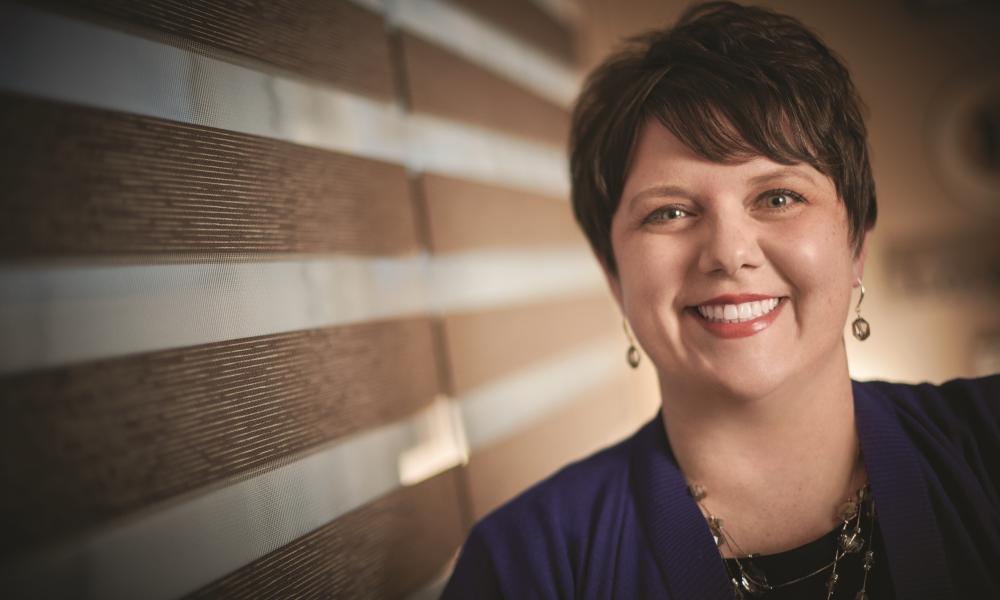 ---
'You could feel God in the air'
Alexa wants to share the joy of FAITHFest with everyone
Dr. Alexa Vitek-Hitchcock, owner of Vitek Family Dentistry in DeWitt, first met Father David Rosenberg when he was referred to her dental practice by another priest.
"My family knew Father Dwight Ezop back when I was in high school," says Alexa. "In 2010, he recommended me as a professional from a faith-filled family to Father Rosenberg, who was new to DeWitt at the time and looking for a dentist."
It was a good recommendation; from then on, Father David was a patient of Alexa's, even when he was reassigned to parishes in Saline and Charlotte. No matter the distance, Father David kept his appointments. Throughout the next four years, they developed a prayerful relationship, and Alexa opened up about her dream to find a husband. "Father Rosenberg always told me that he never prays for people to get something specific or something they want," says Alexa. "But he prayed for God's good intentions for me, and that I would find the husband that would illuminate God's plan for me."
As a dentist and small business owner, Alexa's schedule was busy; it was hard for her to find time to go out and meet new people, which made the challenge of fulfilling her dream more difficult.
"And DeWitt's not the biggest town," Alexa laughs. "But Father said he knew that I had a prayerful heart and disposition, and that God would bring me to the man whom I deserved. So, I stayed faithful."
Alexa decided to join CatholicMatch.com because some of her friends had met their spouses that way, and she took comfort knowing that she would have an increased chance of meeting people who shared her core beliefs. Shortly after, in June 2014, she met her husband, Michael. By September 2015, they were married by Father David.
"Father was so crucial for me in meeting my husband and creating that relationship that we had to have him marry us," says Alexa. "He was part of our journey together, so it meant everything for him to be part our ceremony."
Just a few months later, Father David contacted Alexa with a dream of his own. For years, Father explained to Alexa, the bishop had tasked him with promoting evangelization and Catholic community, no matter where he was stationed. And being that he had recently transferred to the St. Francis Retreat Center, he'd come up with an idea.
"He wanted to have a music festival for families," says Alexa. "There's this narrative that the Catholic Church is unwelcoming, so he wanted to work against that by promoting positive activities."
Alexa was on board; Father David's idea resonated with her and her husband. Part of their core values are to support community-oriented events that create a positive environments for families to thrive. Alexa and Michael look for opportunities to help kids stay off drugs, prevent teenage pregnancy and focus on the family unit. To them, this seemed like the perfect opportunity.
"As Catholics, we have to focus on inclusivity," says Alexa. "Helping to create something that not only welcomes, but actively benefits everyone who walks in the door is a great way to foster that kind of environment."
Alexa remembers setting up their sponsorship booth for the first FAITHFest in 2016. It was much larger than she anticipated; thousands of people attended from across the state and the country to share in praise and worship led by headline musicians, play games, share in food and fellowship, and celebrate Mass.
"You could feel God in the air," says Alexa, recalling the Mass with more than 5,000 attendees. "I've never experienced anything like it. And not everyone was Catholic, but they were there to celebrate with us. It blew me away. It's the most incredibly moving experience I've had. You couldn't walk out of there without feeling something bigger than yourself."
At that festival, Father David called Alexa on stage to thank her for being a sponsor.
"I just told everyone about what Father had done for me, how he had helped me accomplish my dream, and that I wanted to help give him his dream," says Alexa. "And it happened; he acted as a shepherd for the flock – not just at FAITHFest, but for the community."
At FAITHFest, the segment of the community that stuck out most to Alexa were the teenagers.
"We don't give teenagers the credit they deserve," says Alexa. "A lot of people fear what the future of the Catholic Church might look like, but seeing all these teens cheering, singing, not worried about what they looked like and not checking their phones, it was so empowering. They were happy and proud to celebrate Christ with their friends and families. They're proud to be Catholic, and they're not afraid to tell you."
Alexa is hoping that this year's FAITHFest will be the most successful yet. But to do that, she says, Catholics need to reach out.
"I want people who read FAITH magazine to know that they need to invite their friends and neighbors who are not Catholic to attend FAITHFest with them," says Alexa. "This isn't just about Catholics, this is about the good of community and Christ's Church. For someone who doesn't know God yet, what better way to introduce them and help build that relationship?"