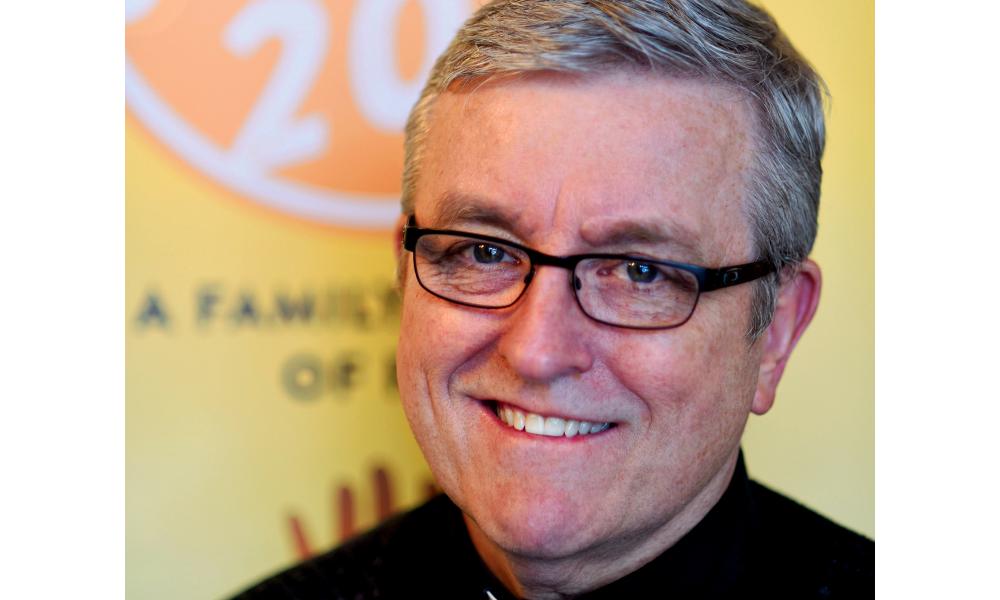 ---
Thousands gather for an 'Encounter with Christ': Faithfest 2016
Once the number of attendees coming through the gates exceeded 6,000 … they lost count. Pretty remarkable for an event that was the first of its kind!
Speaking with Father David Rosenberg almost two weeks after the festival, it was obvious he was still bursting with joy. He describes the unforgettable FaithFest16 as, "A day of grace far greater than the sum of its parts ... We created a new type of Catholic event for the Diocese of Lansing. It was so big that no one person experienced the entire event. It's hard to encapsulate it into words. Thousands of people ended the day having encountered the living Christ. It was like nothing I had ever experienced. It just leaves you speechless."
While music may have been the draw for many, FaithFest included much more. Beyond the incredible talents of Matt Maher, Jason Gray and others, there was something for everyone. From horse-drawn wagon rides, bounce houses and yard games to adoration, confession, ministry booths and Mass – the day exceeded all expectations.
According to Father David, "The emails and the phone calls that continue to come in prove it was bigger than life. People are giving me little 'love capsules' or snapshots of their day to let me know what their experience was." He also recalled the fireworks as a perfect ending for a perfect day: "True joy was evidenced when Jason Gray and Matt Maher's band members played a spontaneous encore to accompany the fireworks."
There is no doubt the Holy Spirit has been moving in FaithFest since Father David first envisioned this incredible gathering in the name of Christ. Father David says, "Chapels were filled all day with people coming in to experience Jesus in the Eucharist ... Monsignor Michael Murphy heard confessions for 3.5 hours and said it was the most exhilarating experience of his priesthood. This was a ground-breaking day – a signature event for the Diocese of Lansing."
With so many moving parts, a festival of this magnitude cannot be executed without the willing hands and financial assistance of many. Father David expressed his gratitude for the continued support of Bishop Boyea, as well as the staff and volunteers at the St. Francis Retreat Center. The DeWitt Police and Fire Departments, as well as EMT staff, were a remarkable help planning for the large crowd, and were present throughout the day. In addition, Father David is grateful for the festival sponsors. He says, "Sponsors came through so generously. They stepped out with their trust and their dollars because they believed in the vision. They were not disappointed."
When asked about plans for next year, Fr. David says, "I want to take the experience from this year and expand it, to help people understand the spiritual benefits of this family festival of faith. We should look at it as a 'pilgrimage toward the New Jerusalem.' All Christians are on an earthly pilgrimage. That day, people all around heard angels sing. It crossed demographic lines and was sweet music to the ear and heart." Father David believes that Father Larry Delaney, head of the St. Francis Retreat Center for more than 25 years, would have loved this event.
In closing, Father David says, "Cars have rearview mirrors. They're smaller than the windshield for a purpose – you have to have it, you have to look back, but you have to stay the course to move forward."
Following this ideology, FaithFest17 is already being organized. Using the lessons learned, and through the guidance of the Holy Spirit, Father David is sure God's goodness will be glorified once more as the festival continues.
Volunteer
If you are interested in volunteering your time for FaithFest17, please go to FaithFest.com. 
By the Numbers: One of the largest events in the history of our Diocese
More than 6,000 through the gates
1,000 glow sticks for Jason Gray's "Glow in the Dark" performance
Approximately 3,500 attendees at Mass
"What I discovered this weekend is a new reality of Christ in my life. I discovered my family is broken and it doesn't have to be"

- A 14-year-old who shared her experience with Father David
"My three inactive baptized adult children had hearts full of joy. The Holy Spirit opened many doors..."

- Email follow-up to survey
"My family and I are Christians, but not Catholic. I wanted to say how awesome it was to experience the Mass...FaithFest was an amazing experience and my family and I have shared it with everyone"

- Email follow-up to survey 
Save the Date
FaithFest17 is Saturday, June 24, 2017 at the St. Francis Retreat Center in DeWitt.
A one-day family festival of faith and music. Twilight vigil Mass with Bishop Boyea. Fireworks at dusk. Family activities throughout the day.
Visit www.faithfest.com for more information.