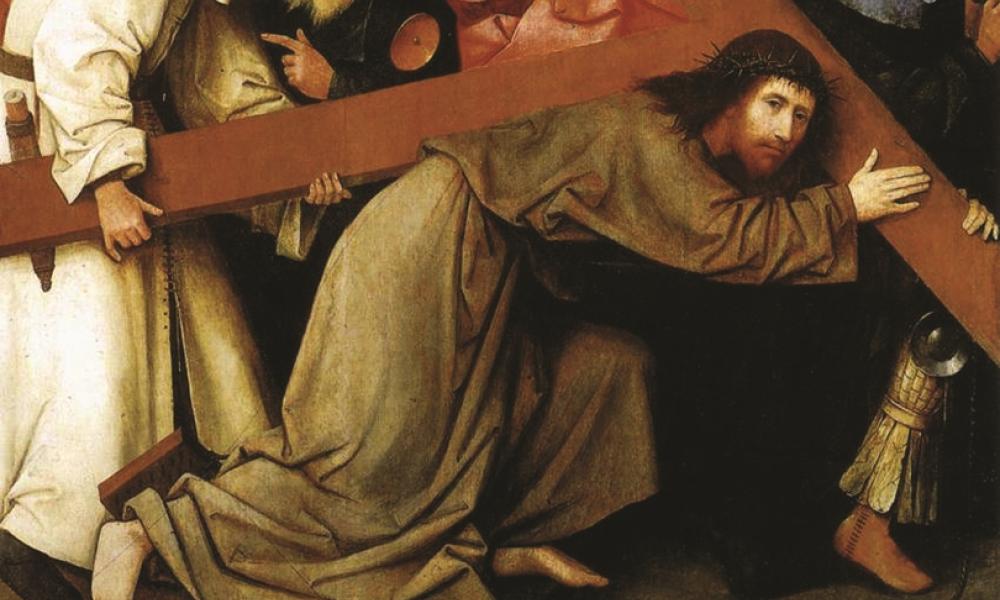 ---
"Take up your cross and follow me"
How we can embrace our crosses
The cross of our Lord Jesus is inseparable from the life of a Christian. Even before we are baptized, we mark the tents of our bodies with the cross – because on the cross, Jesus, our paschal lamb, shed his blood for us. Now the Angel of Death passes over us, and we are filled with the divine life of the Holy Spirit. Yet we realize that the cross of Jesus Christ is not just an instrument of execution – not just the altar on which he offered himself as sacrifice for our sins. It is also intrinsic to our lives as followers of Jesus. As St. Rose of Lima said, "Apart from the cross there is no other ladder by which we may get to heaven."
Carrying the cross is not easy. After hearing the words of Jesus who said, "Whoever wishes to come after me must deny himself, take up his cross, and follow me," (Matt 16:24) I received this e-mail from one of my second-grade parishioners:
---
Dear Father Bill,
I was wondering to know if I can pick my own cross? I don't really want the cross that's supposed to be my cross. What I mean is I don't know if the cross I have is a ... uh, the one Jesus picked for me. What I mean is uh, again, I ... I think I should have a different one. What I mean is I don't think [my brother] should be my cross because well, I think he is too difficult!
How do I deal with him, just in case that is the cross Jesus gave me?
---
I smiled when I read this e-mail, because I know this family. It is not pleasant to think that we might be someone's cross, but if the truth be told, we are. Certainly we are Christ's, who, out of love for you and me, willingly suffered death for us. Without his sacrifice on the cross, we all would be lost.
In our lives, any honest struggle to "bear with one another" out of love for Jesus Christ is a part of our carrying the cross.
Any honest struggle to stay true to God, true to love, true to the commandments, true to our faith, true to our hope as Christians is how we carry the cross, for it was out of love and obedience to his Father's will that Jesus carried his cross to Golgotha.
And because each of our lives and challenges are unique, the cross is specific for each one of us. For some, it can be bearing with a troublesome brother; for others it is coping and suffering in faith and trust through an illness or injury, or the loss of a loved one. No two crosses are alike! The cross causes us to die to self, and surrender to God. It seems to be knit into the fabric of our lives. When we embrace it in faith, a paradox occurs. What seemed on the surface to be  death, becomes the means through which God gives us life. "Whoever loses his life for my sake and the sake of the Gospel will find it."
Still, bearing the cross with faith and love is the greatest challenge we face as we walk the earth. When the cross comes, sometimes people ask things like: "Did I do something and now God is mad at me? Am I being punished?" "Why is this happening to me?" "Does God love me?" "My God, My God, why have you forsaken me?" A person may be thrown into a crisis of faith.
Our suffering Lord is very close to a person during those times. God says, "I will never forget you ... I have carved you on the palm of my hands." (Is 49:15-16)
To persevere through times of suffering, one needs to trust God and surrender to God. Just looking at the cross can help. Looking at our Lord crucified can strengthen us. As we ponder his cross, its power can bring forth a similar surrender within our souls. "Not my will Father, but thy will be done."
That kind of faith, hope, and the surrender of love is carrying the cross. I saw this happen in a young girl named Carrie. She suffered and battled with cancer very courageously, and became a source of strength and grace for others – her own family, the doctors and nurses who took care of her, her friends who also had cancer. She allowed the doctors to try different procedures in the hope that it might help not only herself, but others. Through it all, her suffering changed her. Her soul became more beautiful, more concerned about what was truly important in life, more free. She accepted the cross, and her last few words in life reflected the resurrection. She was near death, then suddenly she sat up in bed with her family around her, and she said, "Can you see how beautiful it is? Wow!" Those around her could not see what she saw, but they could see "how beautiful it is." They could see the beauty of goodness shining out from Carrie as she was dying. Christ suffers with me and you, and makes even our suffering a vehicle of grace for ourselves and others. Such is the power of the cross we embrace.
---
Spiritual Exercise:
We cannot carry the cross by our own power. We need divine help! That help began at our baptism when we "died with Christ," and it continues throughout our lives. One of the great ways to be encouraged to embrace the cross is to read sacred Scripture and passages that deal with the cross. Symbolically, hold a cross in your hands and ask for the faith, hope, and love necessary to embrace whatever cross you are facing in your life. The cross puts sin to death. The cross draws love for God and compassion for others out of us. The cross is the suffering in our lives that conforms us to Christ. As you hold in your hands a cross, prayerfully reflect on some of the following Scripture passages. Use your own Bible and let the Holy Spirit lead you.
---
Carrying the cross puts sin to death
John 15:12-13: "This is my commandment: Love one another as I have loved you. No one has greater love than this, to lay down one's life for one's friends."
Gal 6:14: "May I never boast except in the cross of our Lord Jesus Christ, through which the world has been crucified to me, and I to the world."
God's love and grace help us carry the cross
2 Cor 12:9: "My grace is sufficient for you, for power is made perfect in weakness."
The cross of Christ

and our sharing in it
Read any of the Passion Narratives.
• See also 2 Cor 6:4-10; 2 Cor 11:23-28
Encouragement to persevere in carrying the cross
1 Peter 3:14-15: "Even if you should suffer because of righteousness, blessed are you. Do not be afraid or terrified with fear of them, but sanctify Christ as Lord in your hearts."
Luke 12:4, 6-7: "I tell you, my friends, do not be afraid of those who kill the body but after that can do no more ... Are not five sparrows sold for two small coins? Yet not one of them has escaped the notice of God. Even the hairs of your head have all been counted. Do not be afraid. You are worth more than many sparrows."
• See also 2 Cor 1:3-7; Heb 10:31-39; Heb 12:10-13; 1 Peter 4:12-14, 1 Peter 5:8-11
The glory of the cross and our hope
Rev 17: "Then God will wipe away every tear from their eyes.'"
• See also 1 Peter 1:6-9
The necessity of carrying the cross
Matt 16:24-25: "Then Jesus said to his disciples, 'Whoever wishes to come after me must deny himself, take up his cross, and follow me. For whoever wishes to save his life will lose it, but whoever loses his life for my sake will find it."
• See also Matt 10:37-39, Mark 8:31-32, Mark 8:34-35